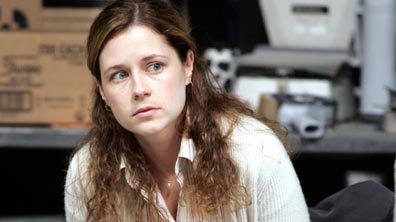 There is nothing as sad as Pam Beasley (unless you count writers who write about fictional characters).
We were introduced to Pam nearly 8 years ago - the drab, every woman. Her romance with Jim was what drove The Office for the first 4 seasons. We had to have someone to root for and rooting for Michael and anyone would be like rooting for a kid to finally stop squeezing that toy Elmo so hard.
Many Office fans suggest that they gave up on the show after Pam and Jim got together, citing a lack of driving force, when in reality The Office just stopped doing comedy after the Jim/Dwight cold open every week. People giving up after Jim and Pam seal the deal indicates that people actually care about these characters. This is understandable when it comes to Jim, he is the conscience of the show, the WTF? is happening when everything around him is literally falling apart. He also has
this.
With Pam Beasley-Halpert this reasoning is shady at best. Why do we like this character? No real human man would want to date Pam. Let us list the failures of Pam Beasley.
1. Superiority Complex
While she was introduced as an every woman type character, she has increasingly become more self assured."Character development," you scream, inaccurately! She also seemed to have a nervous tick, and never wanted to cause trouble (including inviting awful people to her own wedding), until she started dating Jim and making Dwight piss in elevators. But where did she get the gaul to make up a job that didn't exist and lie about it for the next 3 seasons? Pam comes off as cold in the first few seasons, stuck in an awful relationship and refusing to do anything about it. There was nothing except for marriage that changed for her, but now, she sits on her throne, eye rolling her hours away next to her husband.
2. Ambition
The superiority complex seems even stranger when you realize that she has failed at maybe everything she has ever done. In season 1 she notes "It's not every girl's dream to grow up and be a receptionist," a wildly accurate statement, that makes you feel for her. She had ambition at one point, she wanted to be an artist, but then she failed out of art school because "she didn't like flash," which is now nearly irrelevant. YOU DIDN'T NEED TO LEARN FLASH. Pam leaves for love, but isn't this the exact advice we steer our friends away from? Don't quit your dream for a guy Pam! Why are we still rooting for this woman, and why do people claim the show gets worse after Pam gets happy? That means we too are happy for this pathetic character.
She returns to Dunder Mifflin as receptionist, grows some balls to leave the company a season later and becomes an awful salesperson at the Michael Scott Paper company. She returns to Dunder Mifflin as an awful salesperson (at least she's consistent) and then makes up the Office Manager job as a weirdly written coup.

Pam had a dream, gave up on it after things got rough, and has now resigned herself to lying her way through a dying company. She's definitely someone you bring home to mom!
3. Looks
Listen, I'm not going to harp on her looks that much, Jenna Fischer is attractive enough, but Pam was intentionally underdone in the first few seasons, before suddenly getting more beautiful and then getting pregnant and staying that way after the baby came out (I might pay for this line later in life). I'm just gonna say she is not hot enough to overlook every other negative attribute.
4. Intangibles
If you were a guy looking to date Pam you do a quick recap. Is she nice? Not really, she's either a pushover that hates her job or someone who does not have patience for your shortcomings (Michael Scott, the guy at the Daycare center, EVERYONE). Is she pretty? Sort of, if she was really smart and kind and funny, sure you could lock it in. Is she smart? You probably have to answer no to this. She couldn't finish art school, her resume reads:
RECEPTIONIST - DUNDER MIFFLIN - 2001- INFINITY
and basically stops there. Is she funny? She's thinks she is funny, that counts for something, I guess...
What this comes down to is Pam has never succeeded at anything, but still thinks she is better than everyone. Not only does she not do well at art school, sales or possibly reception (sometimes she lets it go to voicemail), but she quits all of those things, presumably because she doesn't have the will to overcome ineptitude. So here she is, resigned to a life at a paper company in a paperless world, based out of Scranton, PA, maybe the saddest place outside of the state of Florida. There is nothing as sad as this girl.